Pay.Skins.Cash - a payment service
Pay.Skins.Cash – a service for gamers!
You want to buy a new game, some virtual items, goods or services? But you have no enough money for these seductive desires? Don't worry! Have a look at your game inventories! If there are skins of enough cost – pay with them through the Pay.Skins.Cash service and save your funds from fees.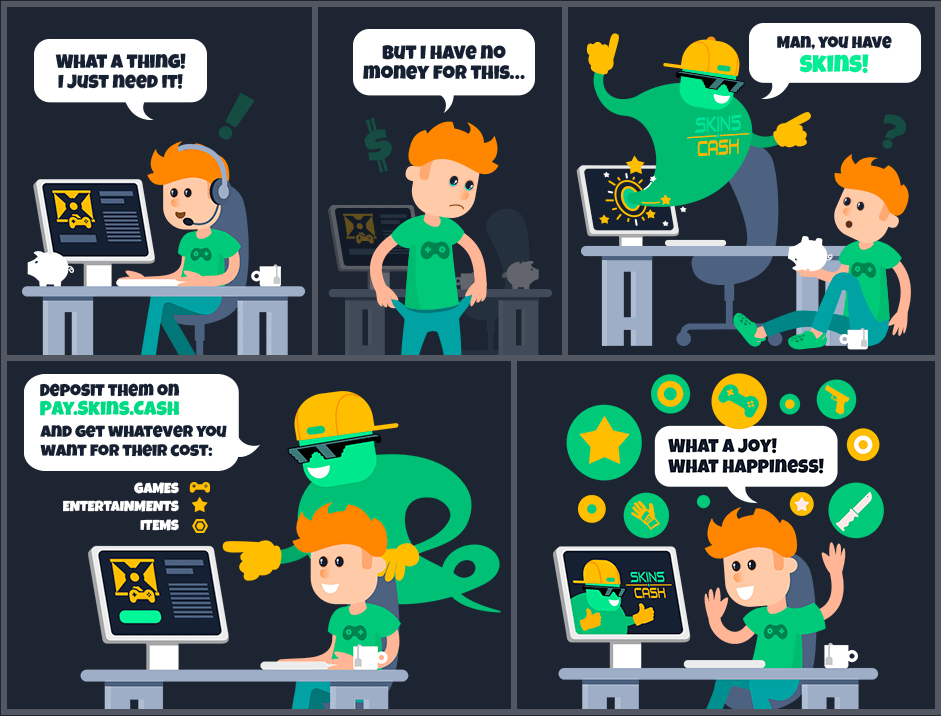 How to pay with skins through Pay.Skins.Cash?
Follow these steps to pay by skins:
Choose the service or goods you want to purchase.
Find "Pay by Skins" in the payment methods. You'll be redirected to the payment page.
Log in using a Steam account, and enter the trade URL if necessary. If you used the Skins.Cash service before, your trade URL will be retrieved from the database automatically.
Choose skins for depositing until their total price reaches the necessary sum of money.
Accept the trade from our Steam Bot and wait for the transaction to process.
You'll be redirected to the source website, and your balance there will be filled with the necessary amount.
Why use Pay.Skins.Cash?
Many people have said to themselves, "If only I could pay by Steam skins!" Luckily, the world economy is changing, and now in-game items are not only worth money, they have become money. Let's say you want to place a bet for a favorite team at an Esports tournament or to purchase games or gaming-related merchandise for a friend's birthday. Why should you use Pay.Skins.Cash?
It's more profitable.
Fewer transactions mean lower fees and more value left. If you decide to sell skins, you'll lose some money while trading them on online markets, withdrawing the money to bank accounts or one of the available payment systems, and depositing them to a target website wallet.
Also, it's very convenient.
Maybe, this is the most convenient way to pay for goods and services, using skins as an alternative to money.
Pay.Skins.Cash – a service for business!
Do you have an online shop or a site with paid services? What about proposing a new convenient payment method to your users? Open up for them the possibility to pay with skins!
It's faster and more convenient. Once your customers figure out how to pay with in-game items using Pay.Skins.Cash, purchasing goods and services will become streamlined in a matter of minutes. They don't need to remember dozens of logins for each of the services involved – a Steam account is the only thing required for the payment to proceed.
Connect the service Pay.Skins.Cash through our API, and your customers will be able to pay by skins in just a few clicks. Our system will transfer funds to your site automatically.
How to pay with skins through Pay.Skins.Cash?
Follow these steps:
Fill out the form below for the Pay.Skins.Cash API method. It should include your email, the link to your site, where you plan to use our service, and an explanation of how you will use the API – why Skins.Cash should be interested in cooperation with you.


Receive a reply whether or not your request was approved. If we decide to cooperate, you will get all the necessary information about the payment system and documentation on how to use it.


Use our API to provide the new payment method on your sites.
Remove any obstacle for purchasing from you! Let your business prosper more!
Pay.Skins.Cash API is provided without any representations or warranties of any kind, direct or implied, as to the operation of the Pay.Skins.Cash API. Pay.Skins.Cash will not be responsible for any harm arising from the use of, or inability to use the Pay.Skins.Cash API.
We are not liable for incidental, punitive, direct, indirect, and consequential damages (or any other kind of damages), whether in contract or otherwise. Your API key may be canceled at any time for any purpose by Pay.Skins.Cash. You are responsible for the security of your API key; do not share, show, or sell it to anyone. If you believe the API key has been compromised, please revoke and replace it immediately.
Remember, we are all about great service, so, in case you encounter any issues with the API connection, please contact our 24/7 live chat support team.